1
« on: 12/06/2017 at 19:45 »
When you're a lazy uni student, you copy and paste your previous intro uwu
This is me, encapsulated in one gif:
Hey there! Sorry for no pretty code; I can't code (STILL) for my life. It's Milla from California, and I'm living in New Haven, Connecticut for university (Yep, that temperature change has been jarring). I've been on site for technically like two and a half years, but if you take out all the times I've been MIA, it's more like three quarters of a year (STILL).
Here's a list, because lists are nice!:
1) I am a baby bulldog, and Handsome Dan is my idol. BOOLA BOOLA!
Me: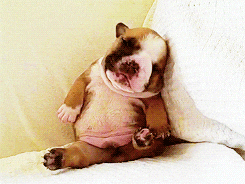 Same, mate.
2) However, the koala is my spirit animal (except for wet koalas; they look like demons).
3) I want to move to Europe or Australia in the future!
4) I swim!
5) FOOD IS LOVE. FOOD IS LIFE.
6) I love, love, love fashion and modeling and stuff (whoops, I may have done too much Black Friday shopping)
7)I hate bugs; please remove them from the surface of the planet.
#8. The 80's were totally tubular!
9)My muse has spread its wings and flown away for a bit, but hopefully it'll come back soon!
Favorite Film At the Moment:
STILL DUNKIRK (OK FIONN WHITEHEAD AND ANEURIN BARNARD AND HARRY STYLES AND JACK LOWDEN AND CILLIAN MURPHY <33), but Baby Driver was totally awesome. I also love The Last of the Mohicans and period drama films and 80's movies, LOTR, X-Men, etc.
Favorite Director:
Chris Nolan. I even saw him in person at the airport once haha
TV Series:
SHERLOCK, BBC Period Dramas (Watching War and Peace right now, love Grantchester), aaand other BBC series, Stranger Things, Merlin, Riverdale, The Vampire Diaries, Supernatural, That 70's Show, Glitch, Godless, Legion, Gran Hotel, Las Chicas del Cable, and others that I can't think of right now.
Music!:
I keep on listening to Lorde and Harry Styles right now, but I love alternative, rock, indie, 80's New Wave, classical, and Yale's a cappella groups. Depeche Mode and David Bowie are A++++++, but also so many other bands! Adding Dua Lipa.
Books:
I love them so much! I'm currently reading
Cell Biology
by Karp (haha so fun), but I'm a sucker for Jane Austen, Agatha Christie, and ginormous Russian novels (and maybe also teen fantasy novels uwu). Screenplays are fun to read too!
Guilty Pleasures:
H20: Just Add Water, One Direction, and Descendants 2 (Harry is my fave hahahaha)
And here are my babies!
Newton Mariner:
Current Castle charrie going into his fourth year. He only knows like three people at Hogwarts. I've got to play more with him!
Lyra Spencer:
My first character, who dropped out of school because her player was gone forever and is now a pro quidditch player for Puddlemere United. She's looking for some love and support (and some threads haha)
Andrés Alvear:
He's been engaged for 12095103950 years; I think he needs a different wife. Valencia Alvear's older (half) bro who doesn't want to stick to Alvear rules, but kind of does anyway. Amateur photographer.
Robin Märchen:
King of the Forest, Prince of Thieves...he's Robin Hood in the flesh. Almost always carries his bow and arrows and is often with his fox, Marian. Behind the arrogant and stubborn facade is a heart of gold.
Noah Graves:
An filthy rich heir without a cause. Spoiled, reckless, hot-headed, and rebellious, he isn't easy to make friends with.
Plus, some other charries in the works!
If you want to thread, I'd definitely be happy to! Just send me a PM or find me in chat!