1
« on: 07/07/2015 at 15:44 »
Alanna O'Broin
Elizabeth Mitchell | 43 | Elsewhere Adult
Alanna had never been very good at magic. She was clumsy with a wand. Her only real magical strength was in herbology. So when she came of age and found a farmer to love, it didn't matter that he was a muggle. She loved their simple farm life. She loved being a wife and mother first and a witch last. When the time warp happened and she lost her husband, Alanna fell apart. She took her children with her to London and got a job as an herbologist so that she could take care of them, but she has been struggling ever since, both to make ends meet and to be assured in herself. When her eldest children said they didn't want to go to Hogwarts because they wanted to stay home with the family, she didn't object. The truth was, she wanted them home with the family as well.
About a year ago, her eldest two children were killed rebelling against the ministry, and her third child was incarcerated. Alanna has become fearful since then. She moved her family to Hogsmeade so that they would get more exposure to witches and wizards. She didn't want the ministry thinking that she was raising her children to be rebellious: Her fear was that she'd lose her youngest four as well.
(for more on the O'Broin family history, check out JP's plot page)


Moira-Naye O'Broin
Maia Mitchell | 16 | Elsewhere/Future Student
Nine years old when the time-warp happened, Moira-Naye fell straight down when their farm disappeared and broke both her legs. She was carried several miles by her oldest brother to the nearest muggle hospital, where she was healed by muggles several hours too late. The muggles told her she'd never walk again. When she was finally brought to a wizarding hospital, they patched her further. She could walk, but she was clumsy, fragile, and in pain her entire life. Up until last July, Moira-Naye was the sweetest of the O'Broin children. She stayed inside a lot, doing needle-point and mending clothes and writing poetry, and had never been to Hogwarts. And then last July she participated in a stand against the ministry: Along with her two eldest siblings, she went outside without the H on her chest. In the ensuing rebellion, the two eldest O'Broins were killed, and Moira-Naye was incarcerated. The ban on letters was lifted a month later, but Moira-Naye remained in jail pending trial. She's just getting out. How the past year-ish has affected her is up to you!
(for more on the O'Broin family history, check out JP's plot page)


Christopher O'Broin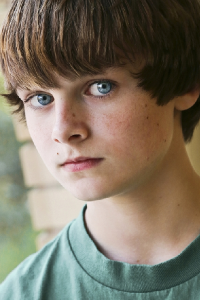 Chandler Canterbury | 13 | Elsewhere/Future Student
Christopher will be entering Hogwarts for the first time this coming Fall (Fall 1945). After the deaths of his two eldest siblings a year ago this July, and the incarceration of the third, Christopher has become the "man of the house," and the head when his mother is at work. Soft-spoken and gentle, Christopher takes care of the two youngest O'Broin children, Anna-Fenelle and Daniel, while they're at home. He and John-Patrick are close to each other and have respect for each other, but they're good at very different things: Christopher is more of a home-maker than anything else, friendly and sweet.
(for more on the O'Broin family history, check out JP's plot page)


Anna-Fenelle O'Broin
Morgan Hinkleman | 9 | Elsewhere Child
Anna-Fenelle was two years old when the time warp happened. It is unlikely that she remembers much from that time. The youngest O'Broin daughter, Anna-Fenelle has been raised to believe in family values. She is the family's littlest gardener, and just like her mother is highly attached to plants and herbology. However, she is also a bit of a spitfire.
(for more on the O'Broin family history, check out JP's plot page)


Daniel O'Broin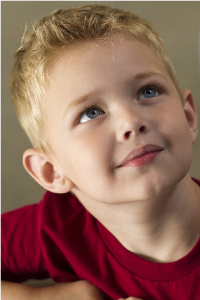 Connor Corum | 7 | Elsewhere Child
An infant during the time warp, it is unlikely that Danny remembers things like the time warp, his father, the family farm, or the journey from Ireland to England. In fact, it is likely that all Danny remembers is growing up in the 2 bedroom flat with his single mom and his six older siblings. Danny spent a lot of his childhood being taken care of by his older siblings while his mother was at work, and has likely taken the loss of his eldest siblings very hard. In the past year, Danny's life has turned upside down: Not only were his eldest siblings taken from him, but his family moved from London to Hogsmeade, and he was told that his remaining big brothers would be attending Hogwarts soon.
(for more on the O'Broin family history, check out JP's plot page)



Interested in playing an O'Broin? Shoot me a PM so we can chat about it!